Port Glasgow Bulb Show 2017
The Annual Port Glasgow Bulb Show will be on Sat 11th March in the Port Glasgow Town Hall.
Show off your green fingers or baking skills.
Open to all, there are a great number of categories for people to enter. There are sections for youth groups such as Brownies, Guides and Scouts etc. as well as individual adults, children and school sections. Everyone at any level is welcome to take part.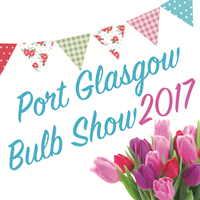 There will be floral displays from Parklea, Branching Out, as well as paintings and handicrafts from local children and the May Hughes dancers will be performing a routine.
The baking competition is open to any amateur baker would like to impress the judges with their baking skills or just have a go.
Come along and join the fun. From 12 noon to 4.30pm.
Entries can be dropped off the day before by 4.30pm on brought along at 9am on the morning of the show.
Entry forms are attached here.
Page last updated: 20 February 2017