Anti-social behaviour services
The Safer & Inclusive Communities Service provide a number of services to help prevent and tackle anti-social behaviour in the local community including:
Anti-social Behaviour Helpline
Inverclyde Council has an established Problem Solving Unit providing a single point for members of the public to receive advice, reassurance and assistance for people experiencing antisocial behaviour.
You can speak to a Helpline Officer at the following times:
7.30am until 5pm Monday to Thursday
7.30am until 11pm Friday
3.30pm until 11pm Saturday
4.30pm until 11pm Sunday
Community Warden Service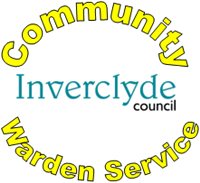 The Community Warden Service is a uniformed visible presence within the community who respond to reports of antisocial behaviour and other community safety issues within Inverclyde.
Community Wardens are equipped with body cameras as well as the service having access to 3 mobile CCTV vehicles. The wardens act as professional witnesses on behalf of the community and work with partners on a daily basis to respond to issues of antisocial behaviour.
Community Wardens operational hours are:
13:00 until 00:00 Sunday to Thursday
13:00 until 02:30 Friday and Saturday
To contact the Community Warden service please call 0800 01 317 01
Antisocial Investigations Team (ASIST)
ASIST is a specialised team of officers who investigate and resolve problems of antisocial behaviour and other community safety issues. Their job is varied and includes interviewing complainers, witnesses, and those people engaging antisocial behaviour, issuing verbal and written warnings, working with other agencies and if necessary to submit cases to Legal Services.
ASIST works hard to persuade people to change their behaviour, offers support for those who need it, targets solutions, not legal measures, and if necessary pursues legal measures.
All Services within Inverclyde Council work with a number of partners to support people who are experiencing antisocial behaviour - to speak to the team contact the Problem Solving Unit on the 0800 number provided.
Page last updated: 10 May 2016